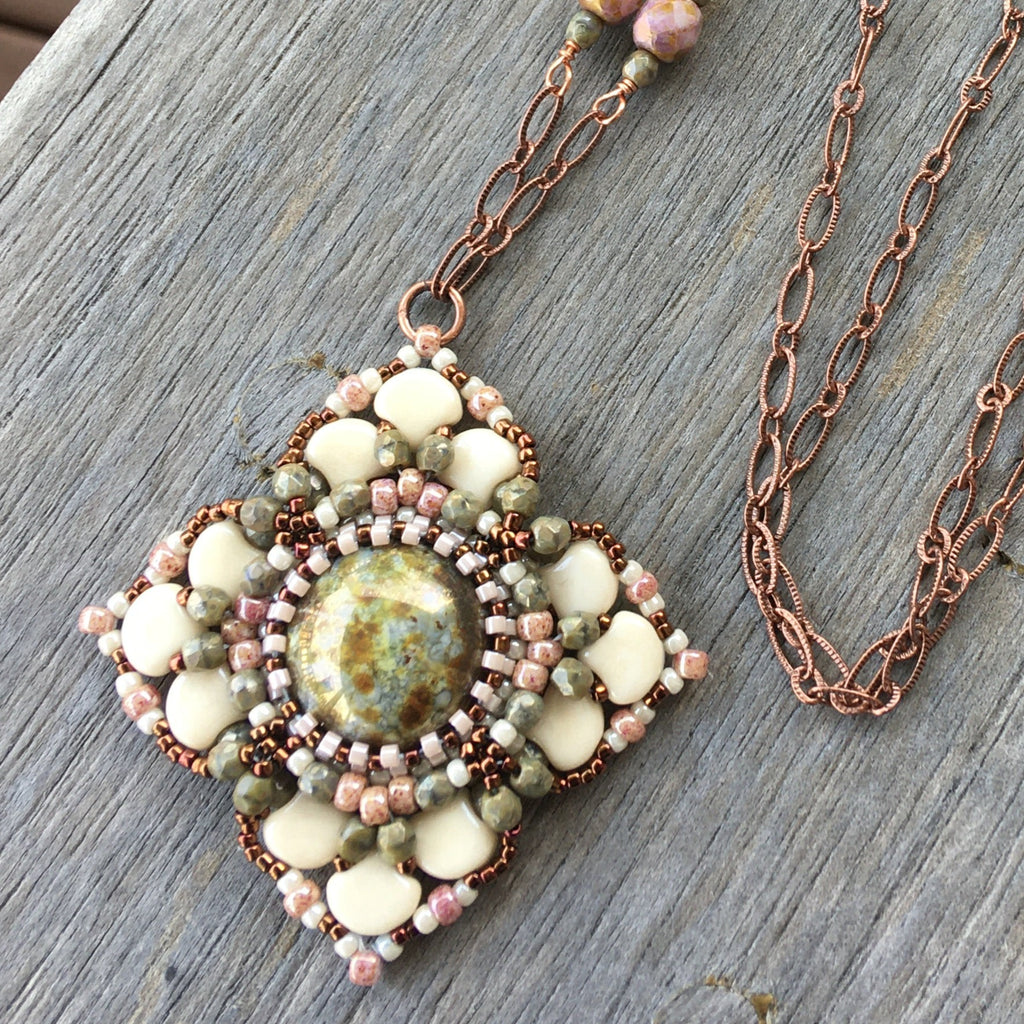 Antonella Pendant Class Sign Up: Sat Sept 2nd, 10:30am
Saturday, September 2nd, 2023 10:30am - 1:30pm 
Join Mary for an intermediate stitching class. In this class students will work at their own pace to create a beautifully intricate pendant. Creating a beaded bezel in the round using peyote stitch will be covered. Beads featured include: Ginko beads, Delicas, seed beads, and a glass cabochon. 
This class is not suitable for first-time bead stitchers. Pre-requisites include any type of bead stitching experience using needle and thread.
Students may not complete all stitching during class, but detailed photo instructions are included to complete the project at home or students may schedule separate time for help.
Cost includes one bead kit. Multiple color options available. Additional kits available for purchase the day of class. **Chain not included, but may be purchased separately.**
Students should plan to bring their own bead mat, beading needle (Size 11 or 12) as well as their favorite beading thread (One G or Fireline). 
Pattern is by Nela Kabelova and has been used with permission courtesy of Beadsmith.
The colorway shown in this photo may not be available, however we will have several other beautiful color choices! 
If the class shows SOLD OUT, please call us at 574.371.2777 to see if seats are still available as we do take in-store and phone sign ups as well. 
The Beaded Peacock Class Policy
Payment is required at time of sign up to secure your place in class. 
If you find you cannot attend class, let us know a minimum of 48 hours before the date of the class and you will be given credit towards another class or store credit for the amount of the class. If The Beaded Peacock needs to cancel a class, you will be notified and your class fee will be refunded in full.
No reminders will be given for class, so please mark your calendar. No refunds will be given for forgotten classes.